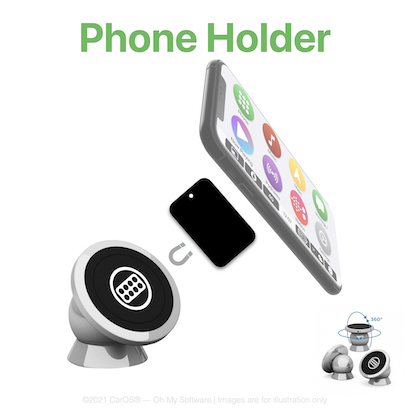 Magnetic Phone Holder
$24.95
---
Mount your device on your car dashboard easily with this design phone holder, and get an upgraded dashboard with a beautiful integration of your device on it.

You just need to put the included metal plate under your phone cover or use the adhesive, and put your device on the Magnetic Phone Holder. Then you can drive with your favorite application for your car.

— Highlights —
You can rotate the magnetic up part in 360° to correctly adjust the angle to record the road with the Safety dash cam feature of CarOS®.

— In the Box —
• One Magnetic Phone Holder
• 2 rounded metal plates
• 3" Circle sticker of the CarOS logo
• Gift card of One Month subscription to offer

Free worldwide shipping included
(Assembled and shipped from France)
In Stock
---
24h Shipments
We are ready to ship your order and your product under 24 h after your purchase, with international tracking.
Secure Payments
We are working with PayPal to proceed your payments. No account required, pay safely with your card.
Best Products
We are selling the best products with hight quality, for you or to offer.
---
---
Frequently Asked Questions
If your purchase include a license for CarOS Premium, you will receive an email from us with your unique code to redeem inside the CarOS app, under your account (by opening the Settings CarApp).
When your order will shipped, you will receive an email from us to give you all the informations and also your tracking link to follow your package.
You need more help for your anything? We are here to help you at any time, simply send us an email:
hello@carosapp.com
.